I've had more than a few lives, yet they all have one thing in common… they all been about communicating ideas in a visual, approachable and accessible way. My degrees have been earned in the hot seat…I am a self starter with a passion for creating.
From starting my advertising agency at 22, becoming a mom at 40, starting a learning center at 48, then progressing to hosting events, doing a radio show, creating a magazine, authoring an award winning book, which evolved me into a graphic designer. And, this is where we meet now.
Advertising to Graphic Design…
Innovate, Create, Inform
Karen's entrepreneurial spirit started at the age of 22, with her advertising agency Elkins Creative Services in Los Angeles, California. For 23 years, she brought her creativity and passion catering to a diverse range of clients in the fashion and consumer electronics industries.
Currently Karen is a graphic designer and for the past 10 years had created various marketing materials from catalogs, trade show displays, to social media for diverse markets. She still publishes Science to Sage magazine and conducts INNER views
In the fashion arena, Karen established a successful niche in trade-to-trade and print advertising for many of Los Angeles' notable fashion manufacturers. That she developed a following in such a competitive and style-conscious market as LA gives testimony to her abilities as a gifted communicator.
In consumer electronics, Karen's client roster included iconic brands such as JBL International, Infinity Speakers, and Harman/Kardon. Working with Harman International Industries (the parent company of JBL, Infinity and Harman/Kardon) Karen created internationally-acclaimed marketing materials used in over 60 countries.
Exploring the Mysteries of Our Universe
Karen's book "InsideOUT" is the recipient of the IPPY Silver Award in the area of science. It is a transformative tapestry featuring over 60 scientists and innovative thinkers. It blends world philosophies and leading edge science with ancient wisdom. The book has over 3000 images showcasing the common threads of humanity and answers the question, "How does the God create?" Show how we can live more consciously connected, while showing our common ground.
She is also a contributor to the award winning book The Beacon of Mind: Reason and Intuition in the Ancient and Modern World.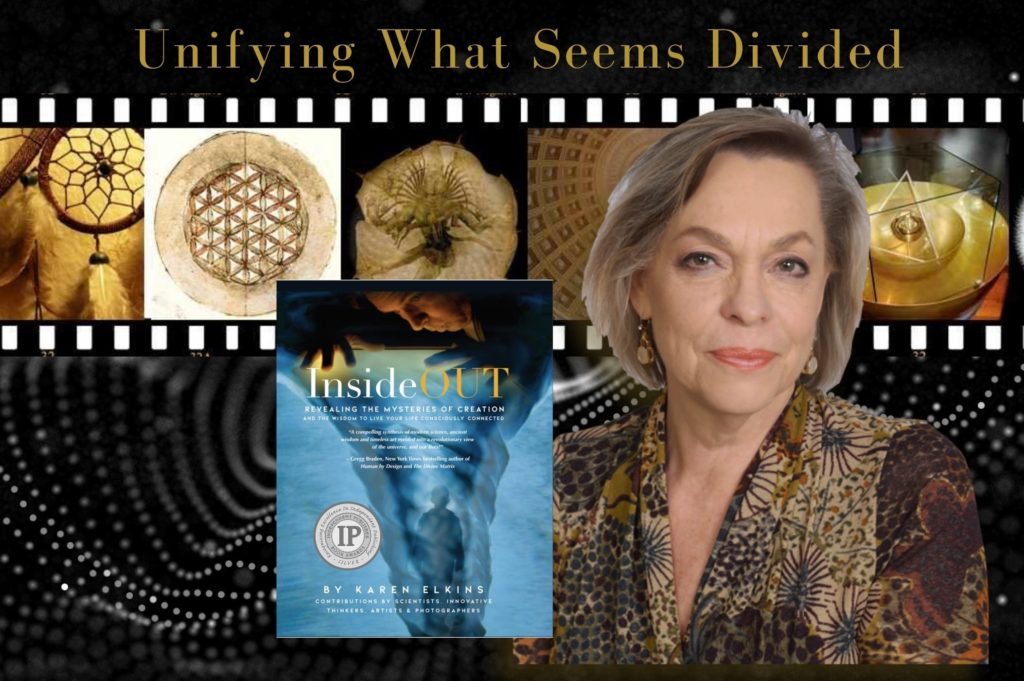 Presentations based on the book and research
2019 – Spokane Dinner Club, WA
2019 – Business Acceleration Summit, Florida
2018 – ESTC: Energy Science Technology Conference – Idaho
2018 – Tesla Technology Conference – New Mexico
2017 – Lucis Trust – New York
2016 – BEM: Breakthrough Energy Movement – Texas
Radio/Webinars – Interviews for book:
M Radio
Valder Beebe Show
Discover Health
Caravan to Midnight
Project Camelot with Marc Gray
Ancient Archeology with Bruce Cummingham
O World Project Interview
Conscious Living Radio
10 + Years of Exploration and Still Learning
Science to Sage Magazine
Karen has created many platforms for leading edge scientist, philosophers, inspired artists, and innovative thinkers the world-over for 10 years. She is the editor, researcher and designer of Science to Sage E-Magazine and has produced over 64 editions. She has also done collaborative editions for Namaste Publishing, HayHouse, Shaloha Productions, and the Electric Universe.
Interviews – Radio to Zoom

For 2 years Karen hosted a radio show on the Awakening Zone and she still continues to interview icons such as Dr. Gerald Pollack, Dr. Rupert Sheldrake, Wal Thornhill, John Stuart Reid, Freddy Silva, Ananda Bosman and many more.
She also co-produced and promoted events in Vancouver, BC, for best-selling authors, in the arena of science and consciousness, hosting Gregg Braden, Dr. Joe Dispenza, Lynne McTaggart, Micheal Bernard Beckwith for starters.
Gifted & Creative Learner -Co Founded
Silbury Education and Resource Center
With business acumen and communication skills fine-tuned in working for such high-profile business clients, Ms. Elkins next turned to the field of education to make a more lasting contribution. From 2003-2005, Karen served director of the Gifted Association of BC's Vancouver Chapter, as well as coordinating four of that group's International Conferences focused on the needs of gifted children.
In 2004 Karen co-founded Silbury Education and Resource Centre for Gifted and Creative Learners. As director and principal of this ground-breaking educational institution, Karen was able to integrate her business and marketing experience with her compassion, creativity and energy to develop a unique program for gifted and creative learners.
Karen created and deployed an entire curriculum for gifted, gifted LD and creative learners. This curriculum spanned grades 1 through 7, and operated under a home-school model, allowing specialists from museums, science centers, universities, and local experts to enrich and support the students diverse needs. The curriculum incorporated global concepts, diversity, and cultural experiences and also included alternative science and healing modalities.
See overseeing operations as well as running special events and conferences. Her progressive mind-set made cutting-edge science along with the traditional "wisdom of the sages" accessible and meaningful to every student in the Silbury classrooms.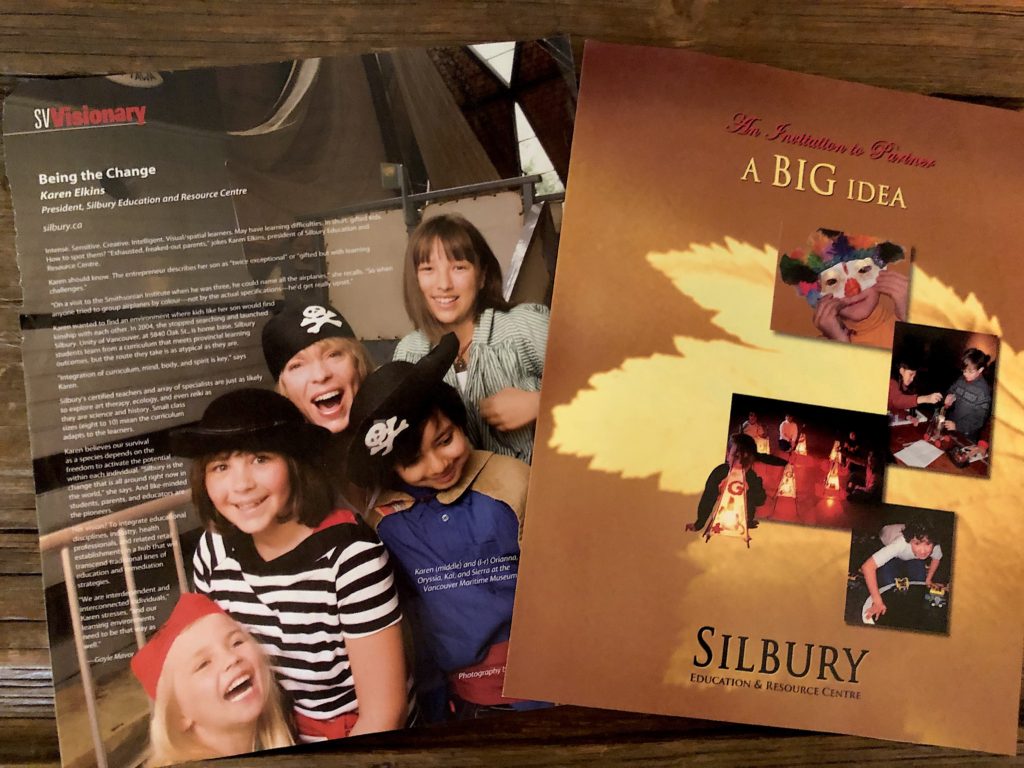 Silbury Education and Resources Center -back in time
Part 1 – Why a Silbury Education
Part 2 – more about Silbury
Silbury Education in the News
Karen Elkins has also been an independent consultant in the area of gifted education. As a result she has been a guest on The Bill Good Show along with international experts Dr. Linda Silverman, Dr. Thomas West, Barry McDonald, and Sue Jackson. She has been interviewed on television and radio (CBC, CKNW, CHMB, Conscious Living Radio, It Takes a Village) and featured in The Vancouver Sun, The Province, The Vancouver Courier, and the North Shore News.Shared Vision Magazine describes her as a "visionary."
Linkedin Profile – https://www.linkedin.com/in/karen-elkins-7539b819/